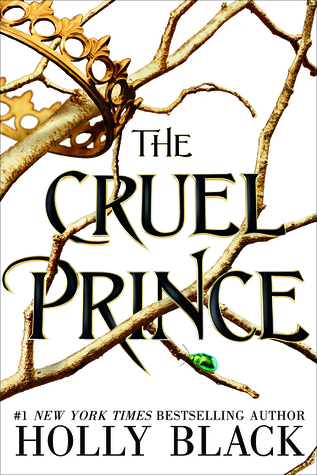 Pubisher: Little Brown Books for Young Readers
Release Date: January 2nd, 2018
Jude was seven when her parents were murdered and she and her two sisters were stolen away to live in the treacherous High Court of Faerie. Ten years later, Jude wants nothing more than to belong there, despite her mortality. But many of the fey despise humans. Especially Prince Cardan, the youngest and wickedest son of the High King.





To win a place at the Court, she must defy him–and face the consequences.





As Jude becomes more deeply embroiled in palace intrigues and deceptions, she discovers her own capacity for trickery and bloodshed. But as betrayal threatens to drown the Courts of Faerie in violence, Jude will need to risk her life in a dangerous alliance to save her sisters, and Faerie itself.
If you've been a follower of Brooke-Reports you may recall seeing a post I did called
"What's the Deal with Fae Anyway?"
In the post I discuss how the Fae genre just isn't my cup of tea.
But, the hype train got me so
I decided to give
The Cruel Prince a chance—it was the first "Fae" book I've finished in years!
While I thoroughly enjoyed reading the story, it was definitely a slow, lulling journey
. The book doesn't pick up
until about three quarters of the way through. That's when
it becomes high-stake, intense and action filled.
The main character,
Jude
,
is caring
, intelligent,
and
tough as nails.
She's stolen away from her home as a child, along with her siblings
,
and thrown into the land of Faerie.
Dudes. I would not survive.
All the mind games and
tricks
, salting my food, wearing protective berries around my neck— it would all be way too much for me. Jude is so bad ass and adapts quickly to any situation she's thrown in to.
I
adored Jude's
family dynamics
as well
.
Madoc her "father" is brutal and layered and I'd love to read more about his backstory. I
loved
her older sister Vivi as well. The weak point, for me, was Jude's twin sister Taryn. She
had ample page time that wasn't really filled with
tremendous
excitement
.
Now, as for Mr. Prince Cardan—I can't say I've fallen completely in love with him
....
yet
. He is the tortured, bad boy type.
Which I'm usually all about, but Cardan may be a little
too
mean boy for me. Jude starts off
HATING
him, so,
I want
to say that Jude's turn around in her feelings towards him
felt
rather
rushed.
Then again,
love and hate walk a very thin line.
And if I'm honest I'll take a romance between these two!
Her
other
"romantic" relationship didn't seem to add to the plot other than word count.
While the Fae genre still isn't a favorite of mine, I can see what the hype is about.
The Cruel Prince was an addictive page turner. I can't wait to check out what happen
s next
in The Wicked King.