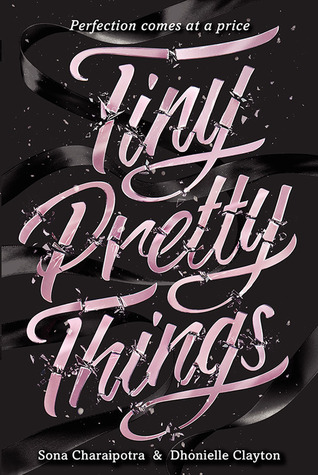 Author(s): Sona Charaipotra & Dhonielle Clayton
Pages: 448
Black Swan

meets Pretty Little Liars in this soapy, drama-packed novel featuring diverse characters who will do anything to be the prima at their elite ballet school.



Gigi, Bette, and June, three top students at an exclusive Manhattan ballet school, have seen their fair share of drama. Free-spirited new girl Gigi just wants to dance—but the very act might kill her. Privileged New Yorker Bette's desire to escape the shadow of her ballet star sister brings out a dangerous edge in her. And perfectionist June needs to land a lead role this year or her controlling mother will put an end to her dancing dreams forever. When every dancer is both friend and foe, the girls will sacrifice, manipulate, and backstab to be the best of the best.~Goodreads
I loved the ballet aspect of this book—the rehearsals and the performances were all described so beautifully it kind of made me want to be a ballerina. But then we also see the less glamours side of being a ballerina and I was like, "nah, I'm good." Something I picked up on while reading was that they all sweat—a lot. Which, I totally understand they are exerting tons of energy by either practicing or performing but sweat was constantly beading or dripping or collecting somewhere, even when they weren't practicing. It was perhaps a touch over mentioned.
I really enjoy the alternating points-of-view in this book as well. The three girls were all equally compelling, had their own unique voice and kept me intrigued.
At first, I thought that Bette would be my favorite but then I discovered how rude/slightly crazy she was
.
That girl has some serious issues. There were times I sympathized with her but soon I realized she caused a lot of her own problems.
Gigi was a touch naïve but she's so sweet I couldn't help but root for her. Everyone else read as more mature, older but you can tell with Gigi she's just a sixteen-year-old girl who loves ballet, and I liked that a lot.
And June is…a puzzle. She is so back and forth I can't tell exactly who she is. I want to learn more about her. I think I like her. Yeah. Pretty sure I do.
The story is definitely about the drama filled life of the girls, no doubting that
,
but there are some key male leads in the story as well. Alec, who is Ballet's 'It Boy' was a little too perfect for my tastes. (Super nice guy, but maybe just a titch
too
nice.) Will, who is Alec's best friend felt a little like a filler character, but he was kind of adorable nonetheless. And then there's Henri. Now, I usually don't use these words to describe a fictional boy but…he was disgusting. He made me sick. He was overly aggressive and predatory and NOT in the sexy way. Just no.
Another aspect I didn't necessarily like was that multiple characters were hooking up with people who were already in relationships. Which, yes, I totally get the scandal factor of that but after the second infidelity I was shaking my head a little bit.
Tiny Pretty Things is a face-paced book that doesn't read like almost 450 pages. It kept me captivated and invested to the point where I wanted to skip ahead to find out what was going to happen a few times. Drama, gossip, secrets, deceit, blackmail, manipulation—it's all in here. It's like a ballet version of Gossip Girl, and I'm definitely looking forward to the sequel,
Shiny Broken Pieces
!