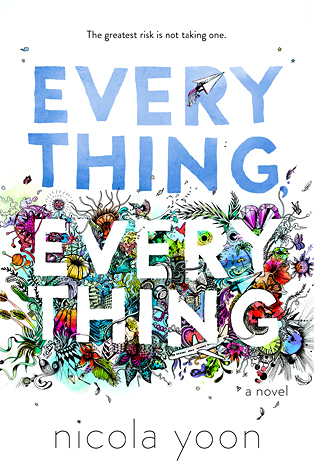 Publisher: Delacorte Books for Young Readers



My disease is as rare as it is famous. Basically, I'm allergic to the world. I don't leave my house, have not left my house in seventeen years. The only people I ever see are my mom and my nurse, Carla.







But then one day, a moving truck arrives next door. I look out my window, and I see him. He's tall, lean and wearing all black—black T-shirt, black jeans, black sneakers, and a black knit cap that covers his hair completely. He catches me looking and stares at me. I stare right back. His name is Olly.







Maybe we can't predict the future, but we can predict some things. For example, I am certainly going to fall in love with Olly. It's almost certainly going to be a disaster.

~Goodreads
Everything, Everything took me by total surprise. This book is funny and heartbreaking and cute and frightening and everything. Everything.
I really enjoyed the characters in this book. You'd think Madeline would be so utterly depressed from not being able to do anything or go anywhere but she is has a strong sassy spirit. I really enjoyed seeing her checkup charts; I thought that was a unique touch.
(The ways the chapters are set up make it such a fast read.)
I also thought it was neat that her mom was her doctor, maybe a touch overly protective, but rightfully so.
Then there is Olly. Oh, how there is Olly. I adored Olly. I mean the boy does parkour for crying out loud = h.o.t. He is sweet and funny and his e-mails/AIMs with Mads?! Loved. But my favorite thing they do? Window staring. Sounds super creepy, I know, but it's actually the cutest thing and it made my heart do weird flippy floppy things.
The twist to this story?! THE TWIST! I did NOT see it coming and oh my goodness gracious. Just wowza. Perfect. A+.
This book was so, so good. I would DEFINITELY recommend!