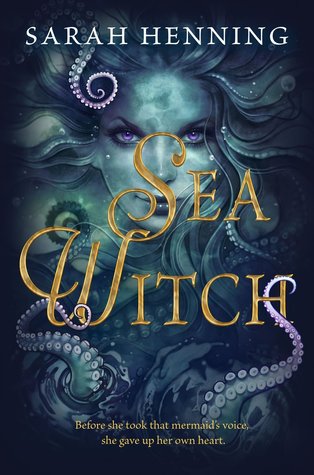 Publisher: Katherine Tegen Books
Release Date: July 31st, 2018
Ever since her best friend, Anna, drowned, Evie has been an outcast in her small fishing town. A freak. A curse. A witch.





A girl with an uncanny resemblance to Anna appears offshore and, though the girl denies it, Evie is convinced that her best friend actually survived. That her own magic wasn't so powerless after all. And, as the two girls catch the eyes—and hearts—of two charming princes, Evie believes that she might finally have a chance at her own happily ever after.





But her new friend has secrets of her own. She can't stay in Havnestad, or on two legs, unless Evie finds a way to help her. Now Evie will do anything to save her friend's humanity, along with her prince's heart—harnessing the power of her magic, her ocean, and her love until she discovers, too late, the truth of her bargain.
I went into this book with incredibly HIGH expectations—so, I only have myself to blame for feeling disappointed.
At
its
core, Sea Witch is a fairly good story. The writing flows well, the imagery isn't overly done, and the characters get you invested...all this to say, it simply was not the story I was expecting. Maybe I'm just not accustomed to backstory retellings? But I feel that this book missed its mark.
I was under the notion that there'd be more
nautical, mermaid, and SEA witch
scenes
. This book is very heavily
witch
focused but not SEA witch focused, if you get my drift.
The tagline is extremely misleading.
While I didn't mind Evie's narration, she also came across flat to me. Evie doesn't seem to have her own agenda, she thrives off of where and how and what her friends are doing. I was invested in Evie only because of who I knew she would become, and not because of who she
already was.
Evie's best scenes were with her love interest, Iker. (AHOY, he is the best thing about this entire novel and he needs a prequel!)
Evie's friendship
with Prince Nik
was something
I grew fond of but it took a turn for the trope toward the end—which was a bit of a
let down
.
Overall, I think at
it's
heart, Sea Witch is a simple cautionary tale about the power and destruction of friendships. With a cute little romance sprinkled in. If you're expecting a dark retelling of Ursula's story, I think you may find yourself disappointed as well.