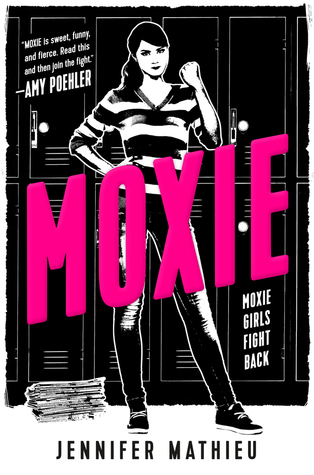 Publisher: Roaring Press Books
Release Date: September 19th, 2017
Vivian Carter is fed up. Fed up with her small-town Texas high school that thinks the football team can do no wrong. Fed up with sexist dress codes and hallway harassment. But most of all, Viv Carter is fed up with always following the rules.




Viv's mom was a punk rock Riot Grrrl in the '90s, so now Viv takes a page from her mother's past and creates a feminist zine that she distributes anonymously to her classmates. She's just blowing off steam, but other girls respond. Pretty soon Viv is forging friendships with other young women across the divides of cliques and popularity rankings, and she realizes that what she has started is nothing short of a girl revolution. ~Goodreads
Moxie is a feminist novel to the core and I was so here for it!
Dude, I'd totes be friends with Viv. She has spunk and drive plus, she's hilarious and loyal. I really enjoyed her point of view! She has this reputation at home of being the "good girl" who never breaks the rules so it was nice to see her shatter that into pieces!
I also liked the presence of her family. I'd love to read a book about Viv's mom in her Riot Girl! glory days!
Oh! And, can I just say that the Zines were freaking awesome!?! I adored the "Fight Back" statements, stars and hearts, bathrobes (READ THE BOOK, YOU'LL UNDERSTAND!)
If you're looking for a cute, quick read Moxie is for you! It delivers a deep underlying social message without shoving it down your throat. Well done, Jennifer, well done!