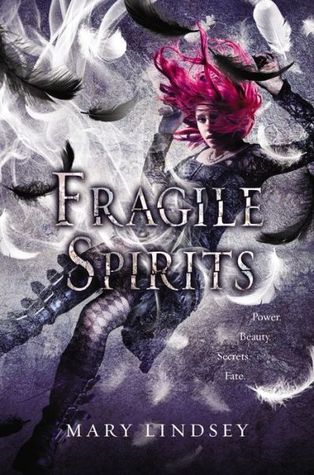 Fragile Spirits (Souls #2)
Paul has always known he was a Protector, fated to serve a Speaker who could hear the voices of spirits lingering after death and help those souls find peace.




Vivienne ignores the voices of the dead.




Paul has always followed the Protector's rule book, preparing diligently for the day when he'd be matched with his Speaker and fulfill his destiny.




Vivienne never does what she's told.




So when Paul is matched with Vivienne, they both find the pairing less than satisfactory. But a kidnapping, a malevolent spirit and power stronger than both of them may just prove that they are two halves of the same whole.




In a stunning story about the beauty of fate and the power of secrets, Mary Lindsey returns to the world of Shattered Souls with a breathtaking thrill-ride of a novel.




**Note from author: This book begins one month after Shattered Souls leaves off. Lenzi and Alden are featured in this book, but reading Shattered Souls is not a prerequisite.~Goodreads
I was extremely hesitant to read Fragile Spirits for two main reasons:
1. I had read its predecessor, Shattered Souls, over three years before—and I wasn't sure I'd be able to pick back up and know what was going on.
2. Shattered Souls was so incredible (fan girl rant here), I didn't think its sequel would be able to compare in the slightest.
My hesitation was completely unnecessary. Mary Lindsey's writing is fantastic. She created a world that is so unique and intricate yet so easy to follow and get lost in—it's amazing. I LOVE this world. (I so want a book about someone who works at the Intercessor Council. Someone who reads and files all the reports?! Maybe with a dash of office romance?! Yes please.)
In this second installment we are introduced to Protector 993, Mr. Paul Blackwell. Let me just start by saying he is the epitome of adorable. I fell hard and fast for Alden but with Paul it was gradual, with each flip of the page. He is intelligent and thoughtful and supportive and so sweet. He is extremely levelheaded, even in a crisis—he is calm for others around him. Even when he is angry—he doesn't lash out (just counts in his head like a cutie). He went through so much when he was younger, he comes with some heavy baggage yet he is still this caring, honest guy and I respect Paul so much.
Then we have Vivienne. Miss Sassy McSasserton. She is so closed off and rude in the beginning that it took me awhile to warm up to her. She has her reasons for being that way and I felt for her. Her quick wit and bold persona won me over though. She's pretty much a BAMF. And can I say character growth like WHOA. At the start of the book she's ignoring the hindered and by the end she's saying, "Game on" for kicking some malevolent ass. Yeah, she's great.
Another character I really enjoyed was Charles. To me he read as more than just Paul's boss, he was like Paul's father figure. And oh my gosh the scene between him and Paul in Charles' office?? Yeah, I really like the dude.
And don't you worry, all of our friends from the first book make an appearance in this installment as well. I loved getting to see little snippets of what Lenzi and Alden and Race were up to.
Unfortunately, one of the most dangerous malevolent spirits is back too and he is a major a$$ "Anyone mind if I smoke?" You'll get why that was SUCH a DICK thing to say once you read the book (because I know you're going to want to after seeing that gorgeous cover and reading this marvelous review :P ) I wanted to knock the guy's teeth out. Only problem was he was kinda possessing a character I liked. And I didn't want to knock HER teeth out, ya know?
Also, THANK YOU to Mary Lindsey for chapter 21! During the chapter I said to myself, "I want this one thing to happen" because I knew it NEVER would. And then it DID happen and I was like, "AHHH! NO WAY!" In-freaking-credible chapter.
I love this series because not only is it funny and suspenseful and sexy at times, it's so emotional. I FELT ALL OF THE FEELS while reading this. I did not want to put it down. The characters are amazing, the world is incredible, the writing is beautiful--I can't say enough good things.
I would HIGHLY recommend this series. I hope with all my heart that Mary Lindsey gives us another installment!