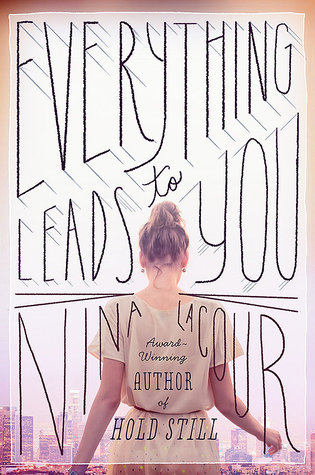 Everything Leads to You
Author: Nina LaCour
Publisher: Dutton for Young Readers
Pages: 307
A wunderkind young set designer, Emi has already started to find her way in the competitive Hollywood film world.




Emi is a film buff and a true romantic, but her real-life relationships are a mess. She has desperately gone back to the same girl too many times to mention. But then a mysterious letter from a silver screen legend leads Emi to Ava. Ava is unlike anyone Emi has ever met. She has a tumultuous, not-so-glamorous past, and lives an unconventional life. She's enigmatic…. She's beautiful. And she is about to expand Emi's understanding of family, acceptance, and true romance.~Goodreads
I was SO excited for this book. As soon as I read the synopsis I thought, "I NEED to read this."
Unfortunately, it all fell a little flat for me. Reading the synopsis versus reading the actual book is what Emi would refer to as a "collapse of the fantasy."
The plot line had potential yet the story dragged. I felt as though I was being TOLD what was happening during each chapter and not shown. Every other scene Emi thought that the moment was "more than" or "bigger than" what was actually happening—I didn't get the feeling that those moments were pivotal at all.
The characters are so one-dimensional. All of the girls, including the main character Emi, read identical to one another.
(Charlotte, Emi's best friend was slightly sassier, so I'll give her that.)
Then, perhaps the biggest miss of the story, is the "romance." Emi is supposed to feel this immediate "connection" to Ava--that didn't translate at all. All of the sudden there's a "spark" between them because Ava blushed so she obviously must like Emi. The so-called romance came out of nowhere. In no way did I see this "connection" or "spark." I barely even saw a friendship form.
I'm sure the story was supposed to be exciting and romantic, it just didn't read that way to me.
Honestly, I would've rather read a book about the old couple who showed up in a couple of the scenes.
The only reason I'm giving this book 2 stars instead of 1 is for the West Coast Gangsta Rap/N.W.A. reference.