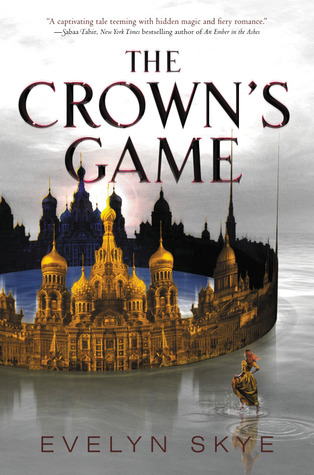 Vika Andreyeva can summon the snow and turn ash into gold. Nikolai Karimov can see through walls and conjure bridges out of thin air. They are enchanters—the only two in Russia—and with the Ottoman Empire and the Kazakhs threatening, the Tsar needs a powerful enchanter by his side.





And so he initiates the Crown's Game, an ancient duel of magical skill—the greatest test an enchanter will ever know. The victor becomes the Imperial Enchanter and the Tsar's most respected adviser. The defeated is sentenced to death.





Raised on tiny Ovchinin Island her whole life, Vika is eager for the chance to show off her talent in the grand capital of Saint Petersburg. But can she kill another enchanter—even when his magic calls to her like nothing else ever has?





For Nikolai, an orphan, the Crown's Game is the chance of a lifetime. But his deadly opponent is a force to be reckoned with—beautiful, whip smart, imaginative—and he can't stop thinking about her.





And when Pasha, Nikolai's best friend and heir to the throne, also starts to fall for the mysterious enchantress, Nikolai must defeat the girl they both love . . . or be killed himself.



As long-buried secrets emerge, threatening the future of the empire, it becomes dangerously clear . . . the Crown's Game is not one to lose.~Goodreads
This book! It was magical and suspenseful and romantical (yes, that's totally a word.) The Crown's Game is an absolutely enchanting debut and a must read!
I adored Vika, Pasha, and Nickolai. Now, usually I'm set pretty darn set on whose team I'm on—but Pasha and Nickolai are both incredibly sweet, intriguing, intelligent, giving, and SUH-woon worthy. Not only do I ship a romantical relationship between Vika and either Pasha or Nickolai—I totally ship the adorable bromance between Pasha and Nicolai. SUCH CUTIES. OH EM GEE.
Another aspect of this story I absolutely loved was how often food was mentioned. I am such a foodie and Evelyn describes so many yummy goodies throughout the story—not only did that make me super happy but also hungry :P (balloon cream puffs and a hot chocolate truffle, please!)
The magic in this story is nothing less than fantastical. I was captivated by every move Nickolai and Vika made. Evelyn's writing is incredible and I vividly SAW each enchantment Vika and Nickolai created. I need book two so I can read about more enchantments!
Oh, and let me not forget THE TWIST. Well, there are a couple...but THE ONE!? WITH THE KNIFE?! OH MY NO NO NOOO!
I can't say much else without spoiling but just wow.
The Crown's Game is full of spellbinding magic, fierce characters, and a unique setting. I would definitely recommend!