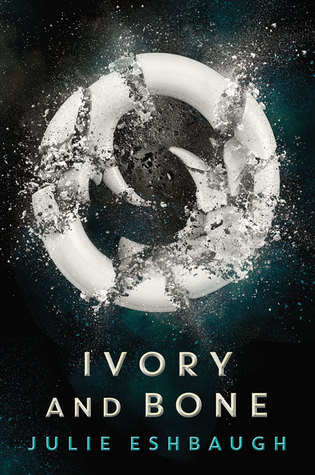 A prehistoric fantasy—with allusions to Pride and Prejudice.





Hunting, gathering, and keeping his family safe—that's the life seventeen-year-old Kol knows. Then bold, enigmatic Mya arrives from the south with her family, and Kol is captivated. He wants her to like and trust him, but any hopes of impressing her are ruined when he makes a careless—and nearly grave—mistake. However, there's something more to Mya's cool disdain…a history wrought with loss that comes to light when another clan arrives. With them is Lo, an enemy from Mya's past who Mya swears has ulterior motives.



As Kol gets to know Lo, tensions between Mya and Lo escalate until violence erupts. Faced with shattering losses, Kol is forced to question every person he's trusted. One thing is for sure: this was a war that Mya or Lo—Kol doesn't know which—had been planning all along.~Goodreads
Ivory and Bone had me hooked from the very start!
I LOVED the narration style and really enjoyed reading from Kol's point of view. He had such a strong voice. He was honest, emotional, open to change, willing to rectify wrongs…just overall a very sound character. Kol is super close with his clan as well and I liked that. His fmaily is wonderful and all of his brothers are cuties!
Another thing I adored about this book was the setting. Kol was surrounded by wildlife and he was subjected to the harsh and beautiful elements of Mother Nature all throughout the book. The setting was almost like another character in the story.
Along with that, the imagery in the novel was striking. I was on the river canoeing, I was in each tent, I could almost taste the honey—golden and sticky—that Kol collected. Some scenes were so perfectly illustrated. But then again, one fault with that was at times I felt that some scenes were overly detailed—to the point where I had to skim over some lines.
The lines I didn't have to skip over, however? The ones in which Kol interacts with Mya. They have a very strained and unique dynamic. It was refreshing and frustrating all at the same time. Definitely would want to read more about them in the future!
Overall, Ivory and Bone is a captivating story and debut that should not be missed!