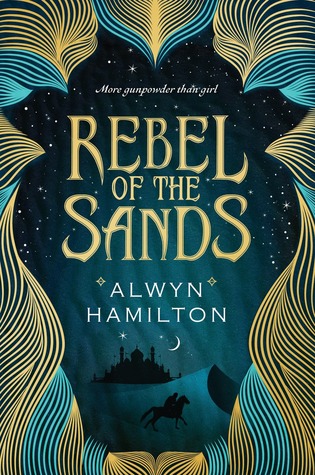 Publisher: Viking Books for Young Readers
She's more gunpowder than girl—and the fate of the desert lies in her hands.





Mortals rule the desert nation of Miraji, but mystical beasts still roam the wild and barren wastes, and rumor has it that somewhere, djinni still practice their magic. But there's nothing mystical or magical about Dustwalk, the dead-end town that Amani can't wait to escape from.



Destined to wind up "wed or dead," Amani's counting on her sharpshooting skills to get her out of Dustwalk. When she meets Jin, a mysterious and devastatingly handsome foreigner, in a shooting contest, she figures he's the perfect escape route. But in all her years spent dreaming of leaving home, she never imagined she'd gallop away on a mythical horse, fleeing the murderous Sultan's army, with a fugitive who's wanted for treason. And she'd never have predicted she'd fall in love with him...or that he'd help her unlock the powerful truth of who she really is.~Goodreads
This story was one of my most anticipated reads of 2016- unfortunately, the majority of it fell completely flat for me.
One of the main disconnects I had with this book was the main character, Amani. Honestly, she just read as very dull. Nothing about her made me say to myself, "wow, she's incredible!" or "wow, this girl is seriously BAD A**!" or even, "wow, i need to be friends with her!" I totally wish i would've felt differently.
The other aspect of the book I didn't enjoy
or get swept up in was the whole idea of the Rebellion. It seemed very over done—like all the other uprisings and revolutions already found in YA books these days. A let down to say the least.
With that being said, there were still some aspects of the novel that I did like. The setting of this book was unique and unrelenting—the overall world building was well done.
Also, the secondary characters in this book were A++. I absolutely adored them. Jin-aka the Eastern Snake-is swoon worthy and hardcore and PLEASE GIVE ME MORE. Bahi was hilarious and I would like a prequel about him, please! (P dot s- i definitely ship Bahi and Shazad
♥)
Even though Rebel didn't meet my HIGH expectations, i DO plan on giving the sequel a shot because I DID enjoy Hamilton's over all writing style. Also, Jin
♥