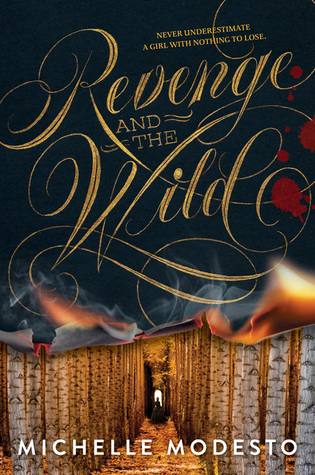 Title:
REVENGE AND THE WILD
Release Date:
February 2, 2016
Formats:
Hardcover, eBook
Find it:
Goodreads
|
Amazon
|
Barnes & Noble
|
iBooks
The two-bit town of Rogue City is a lawless place, full of dark magic and saloon brawls, monsters and six-shooters. But it's perfect for seventeen-year-old Westie, the notorious adopted daughter of local inventor Nigel Butler.





Westie was only a child when she lost her arm and her family to cannibals on the wagon trail. Nine years later, Westie may seem fearsome with her foul-mouthed tough exterior and the powerful mechanical arm built for her by Nigel, but the memory of her past still haunts her. She's determined to make the killers pay for their crimes—and there's nothing to stop her except her own reckless ways.





But Westie's search ceases when a wealthy family comes to town looking to invest in Nigel's latest invention, a machine that can harvest magic from gold—which Rogue City desperately needs as the magic wards that surround the city start to fail. There's only one problem: the investors look exactly like the family who murdered Westie's kin. With the help of Nigel's handsome but scarred young assistant, Alistair, Westie sets out to prove their guilt. But if she's not careful, her desire for revenge could cost her the family she has now.





This thrilling novel is a remarkable tale of danger and discovery, from debut author Michelle Modesto.
With a B.A. heroine, multiple—I REPEAT, MULTIPLE!—swoonworthy guys, action, romance, booze, and LOTS and lots of blood—this book is a MUST READ!
The world in which Revenge and the Wild takes place is so unique! I LOVED the whole western/steampunk setting. Plus, on top of that this book was PACKED with all different walks of lore—Natives, cannibals, humans, trolls, werewolves, vampires—and it all worked together so freaking well.
The characters in this story were SO freakin' incredible too! I adored Westie, I need more of her in my life. She was so freakin' fantastic. She was feisty and fierce, loyal and impulsive and I loved every second I read about her.
Then we have Swoony Boy #1: Alistair. Oh my goodness, adorably sweet and protective, Alistair. I need a prequel or sequel all about him.
♥ And can i just say that t
he tension/frustraion between him and Westie was so real you guys. SO REAL. GAH! I was contantly shouting, "MAKE OUT ALREADY!"
THEN, there is Swoony Boy #2: Costin, You lovely creature you. This boy? *fans self* I thought I was completely over vampires and their fangs and cold skin and cliché ways but Oh My Emma—I'd allow Costin to bite me any day. ANY. DAY. He is so incredibly smug yet he was a fang-tactic (see what i did there *wink*) friend to Westie. I need a prequel or sequel all about Costin too
♥
♥
ALSO. THE 'VILLAINS' IN THIS STORY
WERE SO FRUSTRATING—I wanted to tear my hair out because of them! But then thought, I'd better not since, ya know, they'd like that. :P
Revenge and the Wild is a freaking amazing debut! I HIGHLY recommend you pick it up. I can't wait to read more from Michelle Modesto in the future!
GIVEAWAY TIME!
About Michelle:
Michelle Modesto is a writer, hockey fanatic, lover of most art forms, terrible cook and her social skills aren't that great either. Her debut YA novel, REVENGE AND THE WILD comes out from Balzer + Bray/HarperCollins, early 2016. She lives in Northern California in a double-wide mobile asylum with two mastiffs who don't listen to her and two teenagers who also don't listen to her.
Website
|
Twitter
|
Facebook
|
Pinterest
|
Goodreads
Be sure to check out the previous stops on the tour and keep following the next stops for more chances to win!
Tour Schedule: