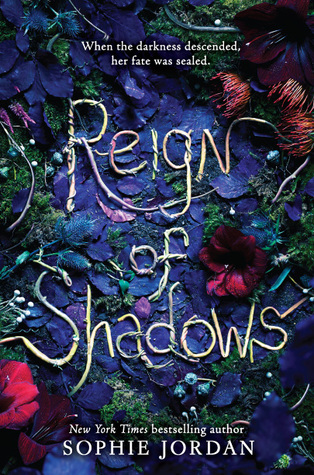 Seventeen years ago, an eclipse cloaked the kingdom of Relhok in perpetual darkness. In the chaos, an evil chancellor murdered the king and queen and seized their throne. Luna, Relhok's lost princess, has been hiding in a tower ever since. Luna's survival depends on the world believing she is dead.

But that doesn't stop Luna from wanting more. When she meets Fowler, a mysterious archer braving the woods outside her tower, Luna is drawn to him despite the risk. When the tower is attacked, Luna and Fowler escape together. But this world of darkness is more treacherous than Luna ever realized.

With every threat stacked against them, Luna and Fowler find solace in each other. But with secrets still unspoken between them, falling in love might be their most dangerous journey yet.

With lush writing and a star–crossed romance,

Reign of Shadows

is Sophie Jordan at her best.
Urgent. Dangerous. Romantic. Reign of Shadows does not disappoint!
This world is so insane. Perpetual darkness? No, I could not deal. And dark dwellers? No, no, no! They are so scary and disgusting! I was on edge the entire book and the only time I had a slight reprieve was at Midlight. I am super curious to learn more about Relhok before the Eclipse, so hopefully book 2 will touch on that!
As for the characters in this story? There are not enough heart-eyed emojis in the whole world that could help profess my love for Luna and Fowler.

♥

♥
Luna is basically a beast. Like she is seriously B.A. that girl can handle herself so well. She can take down a dark dweller like nobody's business, yet, there is such a gentleness about her. She is so kind hearted and understanding. She has such a sweet naivety about her that I adored. Luna was wonderful, put her with Fowler and it's basically magic!
Fowler owns my heart. This boy is so closed off and hardheaded and hardhearted and almost blatantly rude. He is one of the only fictional boys in which I didn't fall for right away. You fall for Fowler the more you get to know him. And the way he softens around Luna *suh-woons* I want more of his backstory—how he was raised, what caused him to leave Relhok and how he became the way he did. PREQUEL SOPHIE, PLEASE!! I hope Fowler makes it to Allu because this boy deserves to be happy.
Reign of Shadows is a unique retelling filled with suspense and sexy-times and scary creatures. This book is a MUST READ! I need the sequel now.