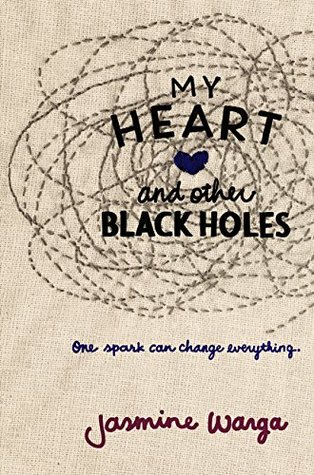 My Heart and Other Black Holes
Sixteen-year-old physics nerd Aysel is obsessed with plotting her own death. With a mother who can barely look at her without wincing, classmates who whisper behind her back, and a father whose violent crime rocked her small town, Aysel is ready to turn her potential energy into nothingness.




There's only one problem: she's not sure she has the courage to do it alone. But once she discovers a website with a section called Suicide Partners, Aysel's convinced she's found her solution: a teen boy with the username FrozenRobot (aka Roman) who's haunted by a family tragedy is looking for a partner.




Even though Aysel and Roman have nothing in common, they slowly start to fill in each other's broken lives. But as their suicide pact becomes more concrete, Aysel begins to question whether she really wants to go through with it. Ultimately, she must choose between wanting to die or trying to convince Roman to live so they can discover the potential of their energy together. Except that Roman may not be so easy to convince.~Goodreads
My Heart and Other Black Holes is a cute story with a heavy subject matter. It is so scary to think that websites like Smooth Passages actually exist. It gives me the jeebers just thinking about it.
I really enjoyed Aysel and Roman's relationship. Aysel is a sarcastic, sassy little thing and Roman reluctantly puts up with it. Ha! That pretty much sums it up :P No, no, I liked how their friendship blossomed and grew as they got to know one another.
Also, I just want to add that, yes, it can be scary to open up to someone about how you are feeling. Especially your parents...but lying to them and hiding things is NEVER the answer. If you don't want to talk to your parents, find someone else you trust. You are loved and needed. Things are never as bad as they seem. Don't be afraid to reach out! My inbox is always open :)
Although this story touches on some really deep issues it has moments of tenderness, hilarity and hope.