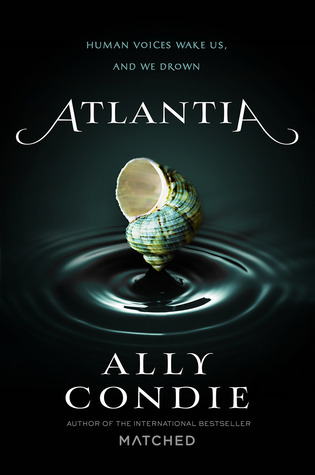 Publisher: Dutton Children
Can you hear Atlantia breathing?




For as long as she can remember, Rio has dreamt of the sand and sky Above—of life beyond her underwater city of Atlantia. But in a single moment, all her plans for the future are thwarted when her twin sister, Bay, makes an unexpected decision, stranding Rio Below. Alone, ripped away from the last person who knew Rio's true self—and the powerful siren voice she has long hidden—she has nothing left to lose.




Guided by a dangerous and unlikely mentor, Rio formulates a plan that leads to increasingly treacherous questions about her mother's death, her own destiny, and the complex system constructed to govern the divide between land and sea. Her life and her city depend on Rio to listen to the voices of the past and to speak long-hidden truths.~Goodreads
There were aspects of this book that I really liked. The writing in itself was well done, the world was thoroughly desribed and the characters were all incredibly distinctive. The choosing ceremony to stay Below or go Above was extremely reminiscent of Divergent—but I still liked the concept!
Rio was a strong lead with at powerful voice. It's easy to understand her hurt and frustration and anger. I feel that the chocies she made were well thought out—she thinks before she acts which was refreshing in a lead.
Oh and I loved True. He was so sweet and talented and I really liked how the story didn't focus on a romance but it was included. (I love me some fictional romance!)
The one aspect I wasn't necessarily a fan of or didn't find laid out exactly right, was the whole siren thing. I'm still not sure as to why being a siren was such a big deal. I personally think Condie should've stuck with the whole Above/Below, City in Peril/save the city type stuff.
Atlantia is a quick read with a unique storyline. I know there was an epilogue but there could totally be a sequel and I'd for sure read it!