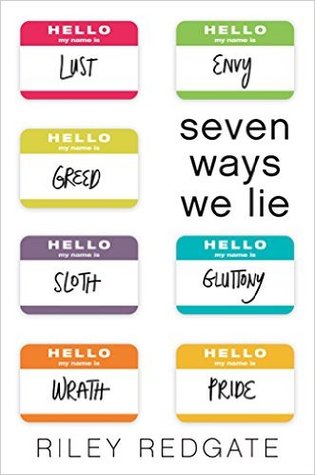 Seven Ways We Lie
Author: Riley Redgate
Paloma High School is ordinary by anyone's standards. It's got the same cliques, the same prejudices, the same suspect cafeteria food. And like every high school, every student has something to hide—whether it's Kat, the thespian who conceals her trust issues onstage; or Valentine, the neurotic genius who's planted the seed of a school scandal.





When that scandal bubbles over, and rumors of a teacher-student affair surface, everyone starts hunting for someone to blame. For the unlikely allies at the heart of it all, the collision of their seven ordinary-seeming lives results in extraordinary change.
7 POVs! 7! Honestly with so many povs it took me a minute to get aquainted with each character. I'd say it was 4-5 chapters per character until i had them all organized and recognized
—but once that was settled i was swept up in the story and it was SO GOOD.
I had some inklings along the way about what was happening but was still taken by surprise at times. I had a blast trying to match each of the characters with the sins on the cover :P
Olivia— Defender, Go-Getter. (Lust?)
Kat— Short-tempered. Gamer. (Wrath?)
Juniper—Pretty perfect princess. (Gluttony?)
Claire— Over achiever. (Envy?)
Valentine—Nerd bomb. (Pride?)
I really enjoyed how this book highlighted not only the struggles teens have to face at school but the struggles they have at home as well. This book was SPOT ON with covering societal pressures put on teens. It was so realatable and relevant it was scary.
I would defintely read a sequel about these kids!
Seven Ways We Lie is a debut you should for sure check out!