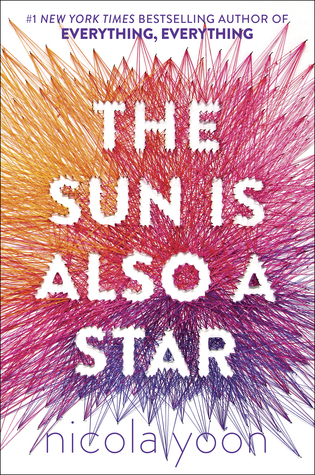 The Sun is Also a Star ARC Review
Publisher: Delcorate Press
Natasha: I'm a girl who believes in science and facts. Not fate. Not destiny. Or dreams that will never come true. I'm definitely not the kind of girl who meets a cute boy on a crowded New York City street and falls in love with him. Not when my family is twelve hours away from being deported to Jamaica. Falling in love with him won't be my story.




Daniel: I've always been the good son, the good student, living up to my parents' high expectations. Never the poet. Or the dreamer. But when I see her, I forget about all that. Something about Natasha makes me think that fate has something much more extraordinary in store—for both of us.




The Universe: Every moment in our lives has brought us to this single moment. A million futures lie before us. Which one will come true?

~Goodreads
I love, love, LOVED Nicola's first novel, EVERYTHING, EVERYTHING so I had VERY high expectations for The Sun is Also a Star; I did happened to enjoy the it, however, it left me feeling just a tad bit underwhelmed.
Natasha is an illegal immigrant from Jamaica trying to stop the deportation of herself and her family. Daniel is a want-to-be poet trying to figure out how to be his own person. A very unlikely pair and by chance, or fate, they meet and the rest is history.
Natasha is a sassy, matter-of-fact, incredibly driven, spunky girl. She's strong as EFF! Her entire situation is less than ideal, but she keeps pushing and trying and fighting for a solution. I admired her for that. Daniel is a sweet, overly romantic, insanely smart, adorable boy. Since the book takes place over the course of, like, 12hours there was a dash of insta-love…especially on Daniel's part. Nevertheless, they were super cute together! Also, ehem…can you say sexy make out scene? Thank you Nicola ;)
Oh! And talk about some unique narration! I've never read a book quite like it, you get snippets into multiple character's points of view. Not just main characters either, I'm talking anywhere from Nat's dad all the way to a security guard, to a random guy driving his car. It was kind of awesome!
Yoon's writing, as always, flows seamlessly, keeps you intrigued, and of course, wanting more. The Sun is Also a Star is a fairly quick read about family, love and loss.
You should definitely give it a shot!
Now, when's Nicola's next book come out!?